Humanitarian boxes
13.06.2017.
Humanitarna fondacija BUDI HUMAN – Aleksandar Šapić bori se za preko 190 Korisnika gde, nažalost, najviše dominiraju deca.
Ako želite da pomognete našim Korisnicima, deci, odraslima, udruženjima, ustanovama, posebnim akcijama, to možete uraditi slanjem SMS poruka, uplaćivanjem donacija na njihove namenske račune ili postavljanjem humanitarnih kutija u Vašem objektu.
Ukoliko ste zainteresovani da organizujete prikupljanje donacija putem humanitarne kutije sa brendom Fondacije "Budi human – Aleksandar Šapić" kutiju možete nabaviti na sledeće načine:
da sami kupite kutiju u firmi sa kojom Fondacija ima uspostavljenu saradnju u smislu standardizacije i bezbednosnih aspekata čuvanja prikupljenog novca u kutiji i da je donesete u Fondaciju radi brendiranja logom Fondacije i potpisivanja Ugovora ili

da dođete u Fondaciju i pod istim uslovima preuzmete kutiju
U oba slučaja Vi ste vlasnici kutije, a Fondacija zadržava ključeve od kutije sve dok se za prikupljanje donacija koristi brend Fondacije.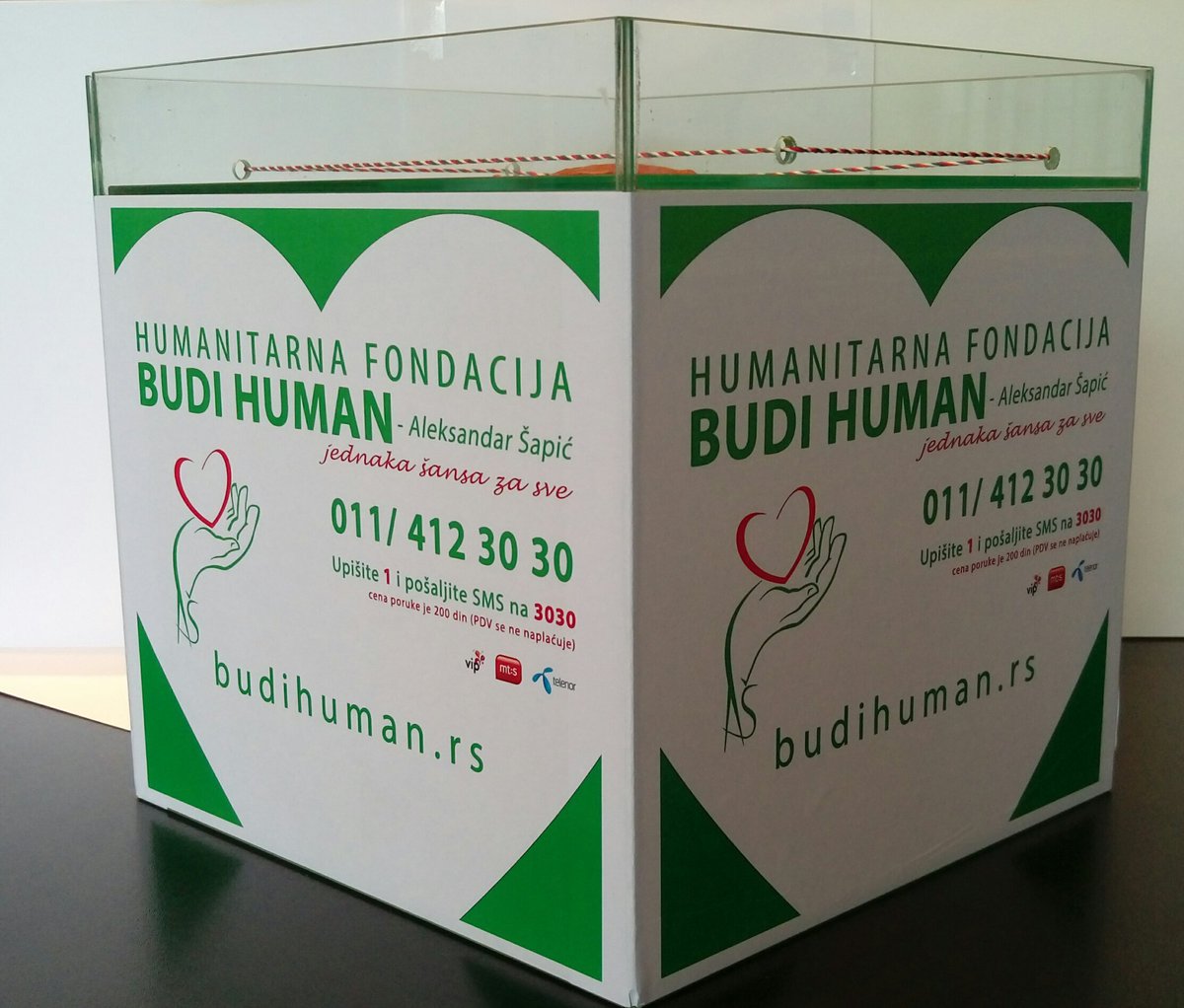 Za jednokratne humanitarne akcije kutiju sa brendom Fondacije možete rezervisati i besplatno preuzeti u Fondaciji uz potpisivanje reversa do vraćanja kutije.
Pražnjenje kutije se vrši zapisnički, a zapisnik o iznosu prikupljenih donacija potpisuju predstavnik Fondacije i predstavnik organizatora. Prikupljene donacije uplaćuju se na račun Fondacije sa naznakom mesta na kome se kutija nalazila.
Svi koji žele da se bore zajedno sa nama, kao i da postanu naši partneri u ovoj borbi, to mogu uraditi svakog radnog dana od 8 do 16 časova na telefon 011/412-30-30 gde će od ovlašćenog lica naše Fondacije dobiti još detaljnije informacije.
Budimo humani!